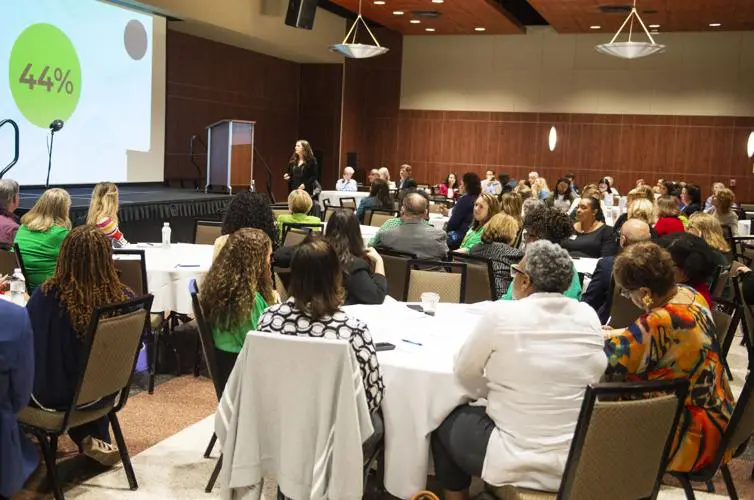 Summit an opening effort to improve schools; Acadiana teachers and organizers eye next steps
Photo caption: Dr. Aimee Barber speaks during an education summit hosted by United Way of Acadiana, the University of Louisiana at Lafayette, and the Pugh Family Foundation on Thursday, March 17, 2022, at the UL Student Union. Photo by Brad Bowie.
By Ken Stickney
Some 200 education stakeholders had something to say and something to learn as they gathered at the University of Louisiana at Lafayette on Thursday, and most left with at least one takeaway: What was discussed and heard could not be allowed to go unaddressed.
Teachers, administrators, elected officials, state education leaders and business leaders attended the Community Education Summit hosted by UL, the United Way of Acadiana and the Pugh Family Foundation on the UL campus.
And although the six-hour summit gave most people a chance at insights, it was not time enough to consider everything on the table.
"We had a great start to these important conversations," said Douglas Williams, a professor in UL's College of Education and one of the summit's organizers. "Speakers spoke honestly, and we're very hopeful that if we can come together with private sector, higher education and K-12, we can make a difference."
"It exceeded our expectations," said Nathan Roberts, dean of the College of Education. "We had the turnout of people we wanted there. It was not just educators talking; there were community and businesspeople, too. That was a win."
Participants raised myriad important issues related to classrooms, teachers and community expectations, including teacher burnout, teacher pay, legislative mandates and employer expectations.
"Everyone there raised issues appropriately," Roberts said. "They said, 'Come talk with us.' In the end, they found everyone was beginning to see the same issues."
More meetings are needed, organizers said.
"It was a great day and I was honored to be here," said Carlee Alm-Labar, CEO of United Way of Acadiana. "It takes collaboration, time and work. People want to work together."
Going forward, she said, United Way would be pleased to help host a summit next year, perhaps in the same Education Week slot when this one was held. United Way is a champion for local education.
She said Aimee Barber, of the College of Education, had called for a "collective" of people to meet several times a year to move forward on the shared goals, a good idea.
In her "State of Education" address, Barber said community members must coalesce around what's important in education and find roles in driving those issues. Chief among hers is teacher burnout, which was a problem before the pandemic.
New teachers have been burning out faster and leaving the profession more quickly, she said. Some 44% leave by the end of the fifth year in their careers — and that was before COVID-19.
Insights from a panel of four teachers illustrated what can cause that burnout.
Kindergarten teacher George Lafleur said he spent a summer preparing lesson plans to teach one grade level, then was switched to another grade early in the school year and had to draw up new lesson plans.
Morgan Mercado said social media can be a teacher's friend but it can also be misused to spread "negative stories." Shana LeBlanc said she was so frustrated recently that she walked into an administrator's office during the day and "just bawled."
One benefit of the summit, teacher Charity Turpeau said, was that in speaking from the panelists' table, she was speaking to higher-ups in the system who attended. It's good to have an influential and attentive audience, she said.
Those higher-ups included seven superintendents who served on a panel of their own — all of whom had worked through school systems from classroom teachers to principals to central office staff before taking the top job. Their insights suggested they understood the teacher complaints.
"We've got to give teachers more time to plan, eat, decompress," said Patrick Jenkins, superintendent in St. Landry Parish.
"We put things on their plates and take nothing off," said Irma Trosclair, Lafayette superintendent.
Darwan Lazard, Evangeline Parish superintendent, said some members of the public assume that anyone can do a teacher's job: "There are big misconceptions. It's not as easy as they think."
Carey Laviolette, superintendent in Iberia Parish, said teachers ought to expect pay raises when they earn additional degrees or certificates. But there is no guarantee that will happen, even when they work on their own time at their own expense to better themselves as professionals.
Al Blanchard, superintendent in St. Martin Parish, suggested parents can more fully exercise their own roles in influencing students at home, which would benefit teachers and students in school. For example, he said parents should read to their children, help them with homework and go to parent-teacher conferences.
State lawmakers could help, too, the superintendents said, by consulting with school professionals before introducing legislation that affects how and what teachers must teach. Too often, they said, bills are introduced in Baton Rouge by legislators who never contact their own local school superintendents to weigh the impacts.
Ronnie Harvey, the state's 2022 Principal of the Year, suggested that no matter the difficulties, teachers must look inside themselves for the inspiration to push through hardships.
"Remember your 'why,' " he said — why they became teachers. His "why," he said, was to impact children's lives in a positive way.
"I'm a big 'faith' guy," he said. "My faith is stronger than my fear."
As a principal, he said, he involves his school community by hosting public meetings or social meeting events so that his students, parents, teachers and community members can have access to him. Those meetings include coaching sessions for parents who don't know how to be their children's first and best support system.
Parents at Washington-Marion High School can never say he doesn't communicate, he said. Not every approach he uses works, but he said he keeps trying.
Despite hardships, Nikki Sellers, an assistant principal in Lafayette Parish, said she has relished her roles in education — from classroom teacher to resource teacher to her current role. Right now, she said, teachers in her school are dealing with issues left over from the pandemic and learning at home.
Students struggle with meeting in person in basic ways, she said, such as making eye contact, getting along with peers and with emotions linked to being with people again. "Some days are more difficult than others," she said. "But I'm happy about being a teacher. That's never changed."
https://www.theadvocate.com/acadiana/news/education/article_54f253aa-a6fd-11ec-b24d-b3c111cfd723.html