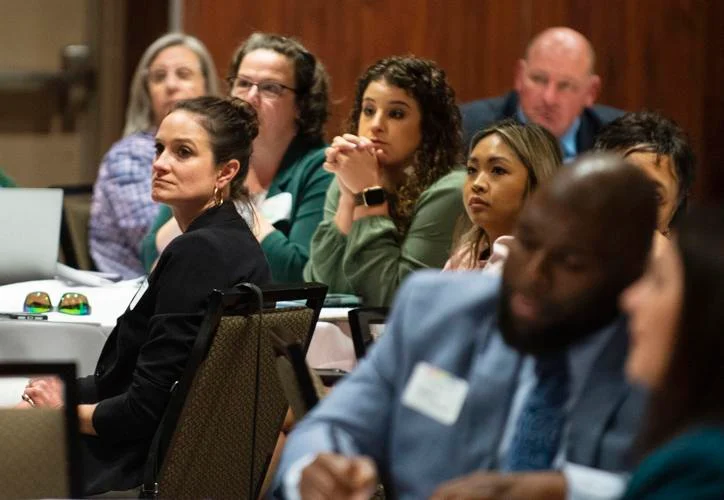 Acadiana educators, community leaders want everyone to buy in to making education better
Photo caption: Attendees listen to a presentation by Dr. Aimee Barber during an education summit hosted by United Way of Acadiana, the University of Louisiana at Lafayette, and the Pugh Family Foundation on Thursday, March 17, 2022, at the UL Student Union. Photo by Brad Bowie.
By Katie Gagliano
Educators, business sector leaders and nonprofit representatives gathered on the University of Louisiana at Lafayette's campus Thursday to brainstorm ways the community can begin to chip away at persistent issues in education, like teacher recruitment and retention.
The summit, the first of its kind in Lafayette, was hosted by the United Way of Acadiana, the Pugh Family Foundation and UL Lafayette's College of Education.
Much of the conversations were focused on the people at the heart of education – students and teachers – and how education can be more human focused.
Aimee Barber, the Gov. Kathleen Babineaux Blanco/BOSF endowed professor at UL Lafayette, said in her opening state of education address that the community needs to collectively decide what the purpose of local education is and how everyone can play a role in putting that purpose at the forefront of what schools do.
One prominent area of focus was teacher recruitment and retention.
Barber, who works in the university's College of Education, said enrollment of education majors has been on the decline and new teachers that do go out into the workforce are leaving sooner; 44% of teachers in Louisiana quit within five years, she shared.
"Teachers are burning out," Barber said. "Teachers are leaving at a staggering rate because we keep adding to their backpack. We keep throwing rocks into their backpacks and not taking anything out at the same time."
At a breakout panel of regional educators and administrators, attendees questioned what's making the field more difficult for educators and pitched ideas that could yield improvements, from funding permanent substitute teachers on school campuses to having a social worker on campus devoted to teachers to serve their social-emotional needs and give teachers more tools to manage their students.
Treating teachers as whole people, like teachers are encouraged to do with their students, is critical, administrator Ronnie Harvey said.
Harvey, principal of Washington-Marion High School in Lake Charles, said it's important that leaders take preventative steps to build up their team's emotional skills to help fend off burnout. Educators need to know it's OK to cry, to vent and to seek assistance, and they need to have a support structure in place so when they can get help when they ask.
"One thing I think we're not paying enough attention to is the social-emotional wellbeing of adults…I tell my staff this, you can't make my babies better if you're not well when you walk in the door," Harvey said.
Other educators counseled that it's important to have accountability but to also be realistic about how requirements handed down from oversight bodies, like the Louisiana Department of Education, translate in diverse classroom environments. Every district, every class, every child is different, they said.
George Lafleur, a kindergarten ESL teacher in Lafayette Parish, said that it was impractical that he had to follow the same lesson plan pacing as mainstream classes when he was still trying to teach his students the English alphabet. When you have to keep piling on new material to follow a pre-set standard, the learning isn't going to happen, he said.
"I was being held to the same standards as the other teachers…but my classroom is not the same as anyone's classroom," Lafleur said. "I have 24 kids in my classroom, and four literally just came to the country two weeks ago."
Teachers also need the space and the feeling of empowerment and safety to speak freely so they can bring their expertise and personal experience to the table to help rethink education, Lafayette Parish teachers Charity Turpeau and Morgan Mercado said. "Actions speak louder than words," Turpeau said. "Those teachers that aren't speaking. They're leaving. That's their way of speaking — they're now leaving. Or now that social media is out, they're putting it on social media."
https://www.theadvocate.com/acadiana/news/education/article_721f3c90-a63a-11ec-94b2-2b1f3632881a.html