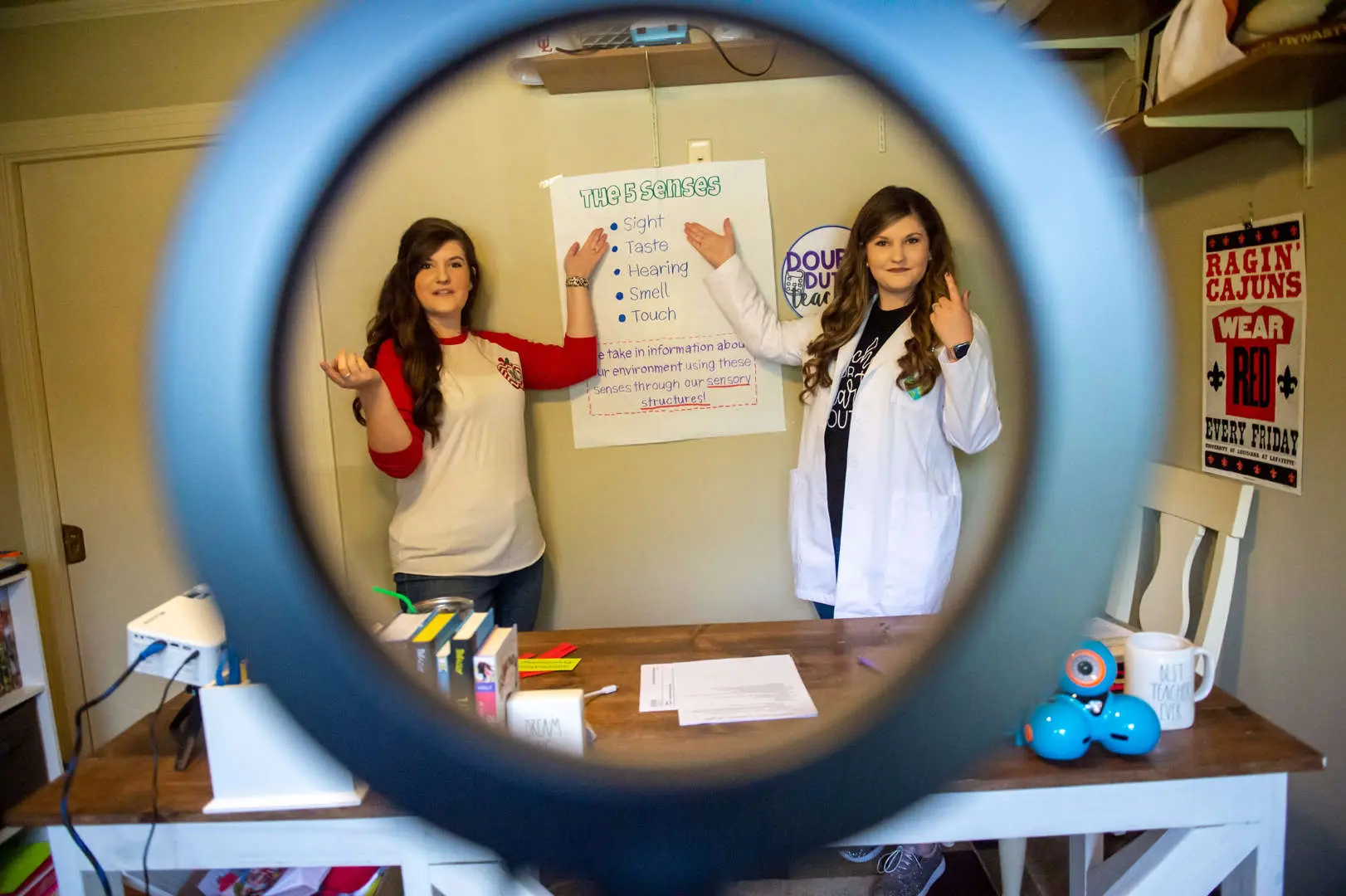 Acadiana teachers plan Teach Out Loud conference to help rejuvenate educators
Photo caption: Woodvale Elementary fourth-grade teachers Morgan Mercado (at left) and Taylor Wallace record a lesson on the five senses from home. The video will air on AOC for students across Acadiana through the Learn United partnership. Photo by Scott Clause.
By William Taylor Potter
Three Acadiana-area educators have a vision: bring together teachers and provide them with the resources — and the community — they need to succeed. It's a bold effort, but that's what the group will be trying to accomplish with its first professional development conference in March.
Lafayette will host the Teach Out Loud conference March 18 at the University of Louisiana at Lafayette Student Union, where around 250 educators will gather for sessions on reframing bad behaviors in the classroom, supporting students in special education programs, and mental health and well-being, among others.
Professional development isn't a new thing for teachers, but the Teach Out Loud conference has a key difference: it's created by educators, for educators.
"We initially had this in mind to curate a professional development experience that wasn't just about, 'Oh, here's something to take back to your kids,'" said Andre Deshotel, one of the conference's organizers and a behavior coach for Acadia Parish Schools. "We wanted to pour into the human side of being an educator."
Deshotel joins Lafayette Parish School System teachers — and twins — Morgan Mercado and Taylor Wallace in putting together the program. The conference runs from 9 a.m. to 3 p.m. at a cost of $20, which includes lunch and a t-shirt.
Childcare in the form of a STEM camp on campus will also be provided. The event, supported by UL's College of Education & Human Development and the Pugh Family Foundation, aims to be a little different than most other professional development gatherings in terms of the actual sessions as well.
Mercado and Wallace, who both work at Woodvale Elementary School and share an Instagram account called "Double Duty Teachers," will be leading a session called "Flip the Script" to help teachers engage students with the curriculum already in place. Deshotel will lead "Breaking Bad (Reframing Behavior)," which focuses on how teachers can diffuse, regulate and connect with disconnected students.
Other sessions include topics on school and classroom culture, mental health, special education, getting students excited about reading, perseverance and resiliency, how to accommodate autistic and other neurodiverse students, leading improvement, and making classrooms more diverse and inclusive.
The sessions will be led by facilitators from a variety of backgrounds, including a UL Lafayette professor, teachers from LPSS, other Louisiana districts and other states, the 2022 Louisiana principal of the year, and others.
In addition to the sessions, the conference will have giveaways for the attendees. The coordinators said they are looking for additional community partners who may be interested in supporting the event and providing potential giveaways for teachers.
After the conference, Teach Out Loud will be working to keep the cohort of attendees engaged and build a community of educators to provide continued support.
"We want to create a community of ongoing support," Mercado said. "I feel like a big part of retaining teachers is having good relationships with other teachers and support."
https://www.theadvertiser.com/story/news/2023/02/07/lafayette-teach-out-loud-conference-aims-to-rejuvenate-teachers/69877290007