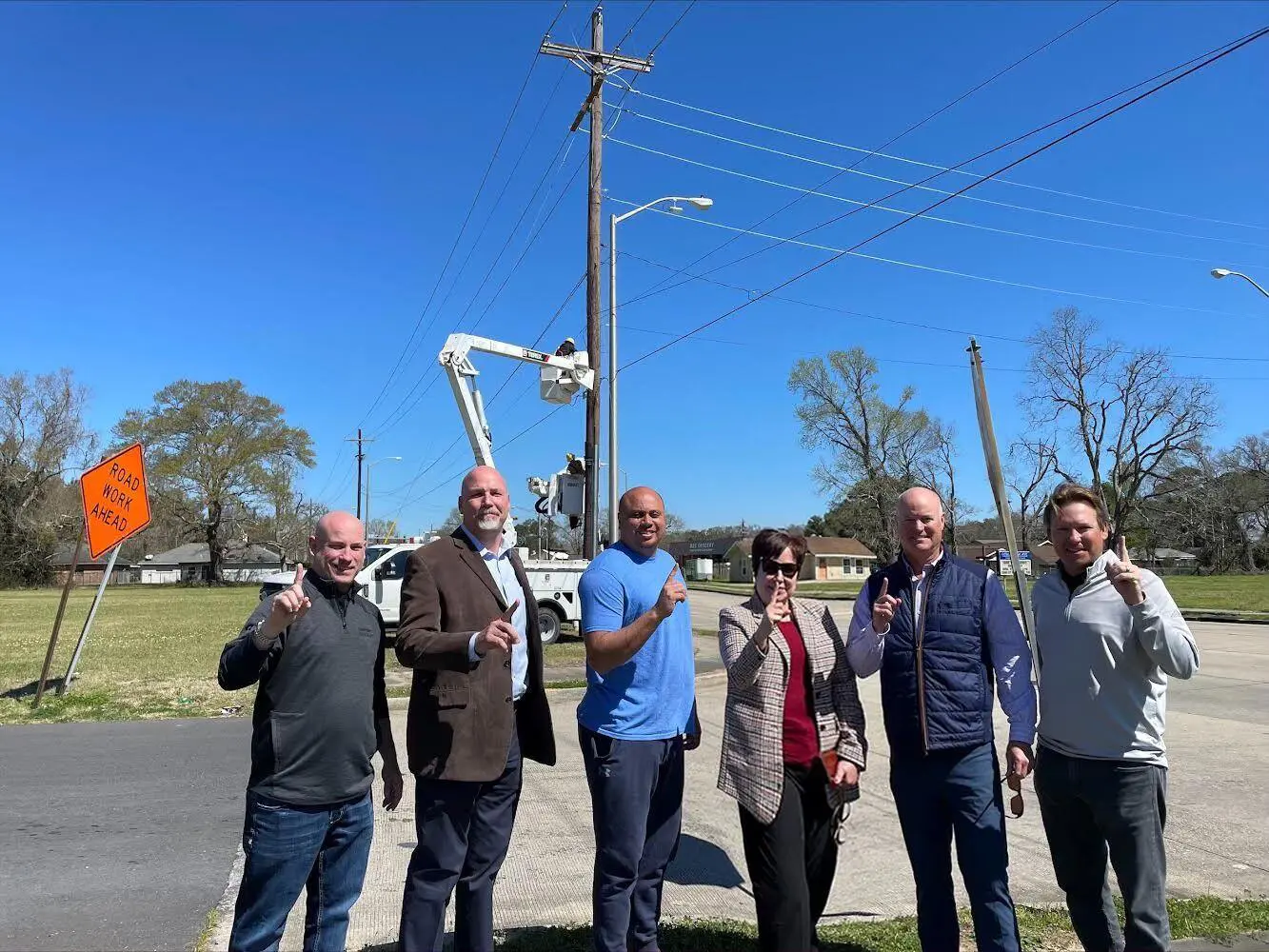 In first initiative of its kind, LPSS to extend school Wi-Fi to 1,100 student homes in Lafayette
Photo caption: Lafayette Parish Superintendent of Schools Irma Trosclair celebrates the installation of the first of 202 Link & Learn Wi-Fi 6 access points at the corner of Buick Street and Louisiana Avenue in Lafayette flanked by project partners (left) Jeff Foxhoven of CommScope / Ruckus, Jon Fitzgerald of InfoLink USA, District 4 School Board member Tehmi Chassion and (right) Al Brown of SmartWAVE, and Jacob Heck of CommScope / Ruckus.
By Katie Gagliano
The Lafayette Parish School Board and Link & Learn, LLC, an initiative born from Love Our Schools' work, have partnered to expand filtered, educational Wi-Fi service to roughly 1,100 students in neighborhoods on Lafayette's northside.
School board members voted 7-0 at a special meeting Wednesday to officially launch the project, signing a cooperative endeavor agreement with Link & Learn and LUS Fiber.
The board committed $550,000 in the first year to cover costs for installing and integrating Wi-Fi access points in a roughly two square mile area around J.W. Faulk Elementary, Northside High School and David Thibodaux STEM Magnet Academy, and maintaining the Wi-Fi network.
Todd Mouton, executive director of the Pugh Family Foundation, said the access points will be mounted to light posts around town. From there, the access points will extend the schools' wireless networks and allow children and teachers with school-issued devices to access the internet from their neighborhoods, with a boost from LUS Fiber's network.
The Wi-Fi will be filtered, only allowing access to school approved sites and apps, in line with an opinion from the Louisiana Attorney General's Office.
"For the children it should be seamless, just like they're on campus. When you open your laptop at Northside or Faulk or Thibodaux, when you go home and open the laptop you'll see the same networks and you'll connect, then do whatever work you need to do," Mouton said.
The network will run on Wi-Fi 6, the next generation of faster Wi-Fi. Mouton said technology sector partners are confident this will be the first Wi-Fi 6 outdoor network in the United States, and possibly the world.
"This is kind of uncharted water for a lot of folks…What we're asking tonight is that we all agree to join forces to be leaders – to lead this region, to lead this state and to really lead the nation, and possibly even in some respects the world, to bring the very best to our community and allow our students the chance to benefit from that," Mouton said.
Superintendent Irma Trosclair, in a prepared statement, said the pandemic underscored the opportunity gaps that plague students, like equitable access to the internet and digital learning opportunities.
"The term academic gaps in my mind makes it sound like there's something wrong with the students. Like they can't learn. Ahead of academic gaps are always opportunity gaps and that's what we're seeing here. We will never close academic gaps for children if we don't work to close the opportunity gaps for kids," Trosclair said at the meeting.
The idea for free, easily accessible outdoor Wi-Fi was first pitched by Link & Learn in fall 2020, as an expansion on an initial wave of internet connectivity efforts from the group that focused on hotspots, low cost internet packages for families, boosting school networks with Wi-Fi enabled buses and launching a help desk to assist families with technology needs.
That first outdoor Wi-Fi effort, which philanthropic partners committed over $185,000 toward, just didn't pan out, Mouton said. The attempt involved mounting a Samsung Wi-Fi radio to a pole on Lafayette's northside to create a CBRS, or Citizens Broadband Radio Service, network, a secure, private Wi-Fi network.
Mouton said it failed because even with enhancements to Chromebooks and other tested devices, they couldn't connect to the network because of challenges created by tree and foliage density in the area. The solution didn't work with our local geography, he said.
"It made us more patient. But isn't that the nature of education? You do your best, you apply your skills to solve problems and the lesson is keep trying, and that's the same thing we tell the children," Mouton said.
The Link & Learn team was then introduced to Chuck Treadway, CEO of CommScope, a company that deals in infrastructure for communications networks. Treadway is a Lafayette High School and University of Louisiana at Lafayette graduate. Treadway soon pointed the group in the direction of SmartWave Technologies, which specializes in building wireless networks.
Mouton, Trosclair, Pugh Family Foundation founder Nick Pugh, LUS Fiber director Ryan Meche, William C. Schumacher Family Foundation director Erica Ray and others traveled to Council Bluffs, Iowa to see a SmartWave network in action in mid November.
"We rode around these neighborhoods streaming video on a laptop, all of us, and there was no dropping out or reconnecting," Mouton said of the trip.
An initial Wi-Fi radio, built by Treadway's CommScope, was installed earlier this month for testing at the intersection of Louisiana Avenue and Buick Street near Northside High.
Mouton said now that the cooperative endeavor agreement has been signed installation of more radios should move quickly; local utility representatives estimated it would take 20 working days to install the 203 radios once started. Link & Learn has already worked with LUS, LUS Fiber and Lafayette Consolidated Government's public works department to iron out the execution details.
LPSS's initial investment will cover those costs, while Link & Learn spent $416,874 to purchase equipment for the project and covered costs for the Wi-Fi network's design with SmartWave and Lafayette-based telecommunications company InfoLink USA. Link & Learn has also committed another $16,000 to the project, per the agreement.
Moving forward, it's estimated maintaining the network will cost LPSS $300,000 annually. Mouton said he's optimistic once the value of the network is shown, they'll be able to secure grant support and additional philanthropic and business partners to reduce costs and help expand the network to additional areas of the parish.
The goal is to test the network with students and educators over the summer through summer school and enrichment programs, then come "roaring into next school year," Mouton said.
Trosclair said expanded internet access for students will make not only existing work easier, but elevate what teachers can do with homework and at-home supplemental learning.
"…our teachers will actually be able to assign assignments that kids can complete at home, which they currently cannot do. As far as equitable access for students, this is also equitable instruction for our teachers who can't assign the same rigorous, meaningful activities because of the lack of connectivity for their students," Trosclair said.
District 4 board member Tehmi Chassion, whose district is partially covered by the proposed Wi-Fi network, said easy, free access to the internet will "be tremendous" for kids in his district.
Chassion reflected on his family's time living in Holy Family Apartments on Louisiana Avenue from 2004 to 2009, during his eldest daughter Autumn's formative years. Access to reliable internet was a struggle, he said, and often he'd have to drive his daughter to his mother's home if they wanted to do learning activities online.
They were lucky because they could drive to access reliable internet elsewhere. Not everyone has that luxury, he said. Bringing the internet to the students clears hurdles from their paths.
"The world is at your fingertips," Chassion said.
The school board member said he watched as the first wireless access point was installed at Louisiana Avenue and Buick Street and he and Trosclair gleefully hugged the light post afterward. "I want to physically go and see every time they're putting one up. Every one that goes up is one step closer in the 203 steps that are needed to provide this Wi-Fi system to the 70501 area code," Chassion said.
https://www.theadvocate.com/acadiana/news/education/article_9c26972a-ab87-11ec-a127-e32f94646ef2.html