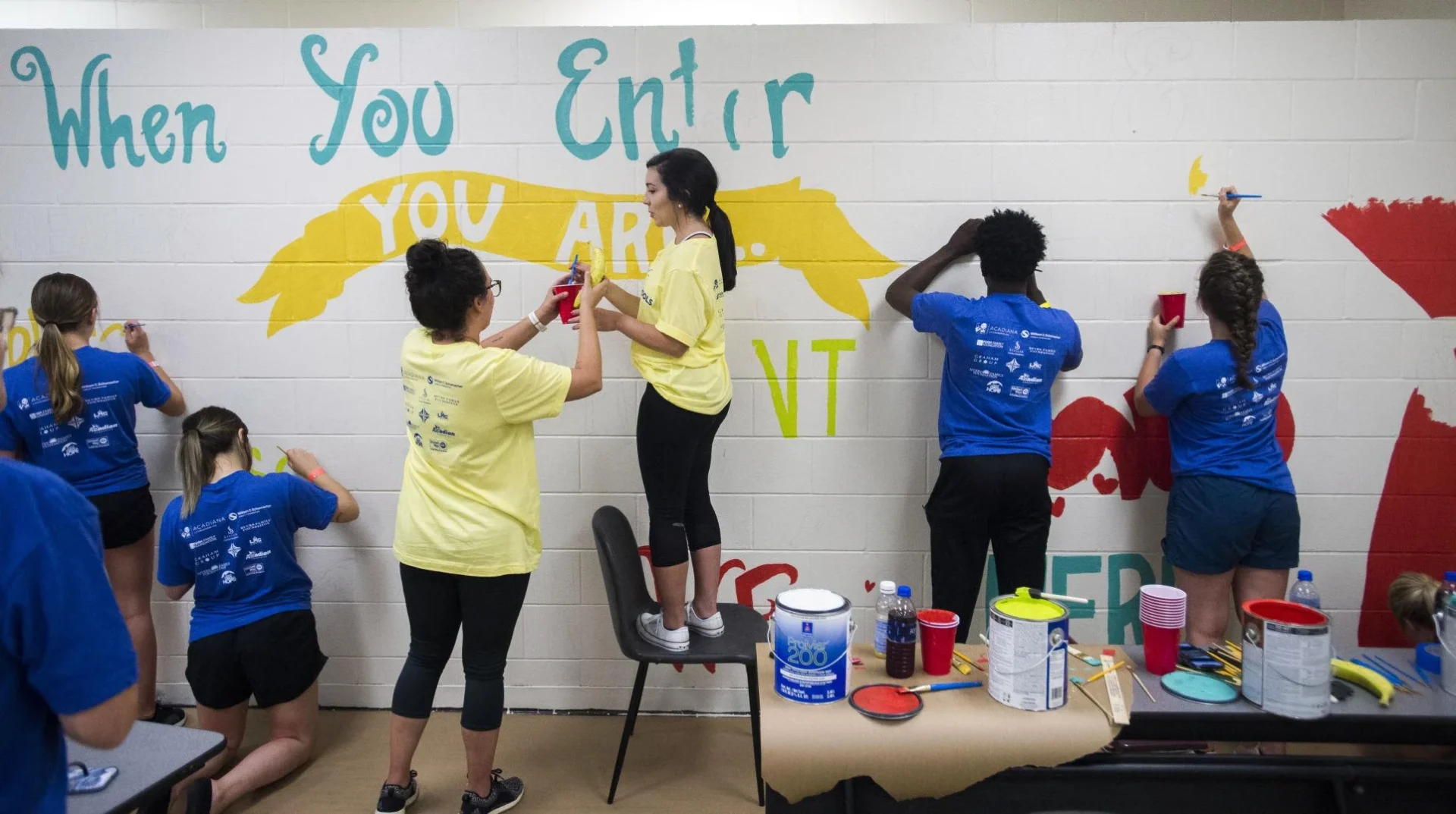 Dozens of LPSS schools are fundraising during SOLA Giving Day; here's how you can help
Photo caption: Volunteers paint a mural in the cafeteria at Carencro Heights Elementary School during Love Our Schools' inaugural serve day, a volunteer project to clean, make repairs, install new equipment and prep for the beginning of the school year at schools around Lafayette Parish on Saturday, August 10, 2019. Photo by Leslie Westbrook.
By Katie Gagliano
With traditional school fundraising opportunities stunted over the past two years because of the COVID-19 pandemic, Lafayette's public schools are hoping to use SOLA Giving Day as a springboard for campus projects — everything from new digital marquee signs to adaptive playground equipment for students with special needs.
SOLA Giving Day — a 24-hour giving event supported by the Community Foundation of Acadiana — allows community members to support a slew of nonprofits and community organizations through philanthropic giving.
Forty-six LPSS schools and programs are fundraising as part of SOLA Giving Day on Thursday and each has the opportunity to earn matching funds from Love Our Schools.
The nonprofit partner is offering matching funds up to $2,500 for the eight traditional schools in the nonprofit's CAFE program and up to $500 for other LPSS schools and programs, William C. Schumacher Family Foundation operations director Erica Ray said.
Love Our Schools' two main backers — Schumacher and the Pugh Family Foundation — were also able to get registration fees waived for each of the schools to encourage 100% participation as sponsors of SOLA Giving Day, she said.
"Because of COVID, schools could not have their traditional fundraisers and we thought it was important we partnered with the schools so they could have a sustainable model for their fundraising," Ray said. "Now, more than ever, we need to show teachers and kids support."
The schools' fundraising efforts are targeting various areas of need, including new digital marquee signs at least seven schools, items to give away as student incentives and the construction of outdoor learning spaces or a student-led learning garden.
At Myrtle Place Elementary, Principal Catherine Bricelj said her school is hopeful this year's SOLA Giving Day will put fundraising for a new walking and running track over the top.
The school has been raising money for the addition for three years; the total cost for the track and needed drainage work is estimated at $125,000, but because of a matching fund program LPSS offers, Myrtle Place only needs to raise half of the total project cost. They're $9,492 away from their fundraising goal, the principal said.
The track will further the school's mission to promote physical health and overall wellness.
Currently the school's PE teachers host a program where students use digital ID cards and an iPad to log miles on a virtual track, with rewards offered at the end of the school year. Standing water and muddy spots after heavy rain unfortunately hamper those efforts, Bricelj said.
"Physical health promotes wellness and wellness is important for a child to perform the best they can," the principal said.
At Alice Boucher Elementary, the school is hoping to turn a vacant classroom into a sensory space and calming room to support social-emotional development and offer resources when students or staff members feel stressed or overwhelmed, Principal Roneka Coleman said.
The idea was proposed by special education teacher Natasha Honegger, who won $5,000 for the project after being recognized as a Sun Belt Conference "Extra Mile Teacher" this past year.
Coleman said they're hoping to raise an additional $5,000 during SOLA Giving Day to fully equip the room, which they plan to open for the 2022-2023 school year.
Their ideas for the room include flexible seating that would allow students to rock or swing, items for tactile engagement like stress balls and fidget spinners, a sound machine for calming music or white noise, noise canceling headphones, dimmable lighting and craft materials like whiteboards for expression exercises, the principal said.
"It's no longer just about the academic part for kids, it's about the social and emotional side of it as well. We want it to be a space where … kids know they can choose to go there to cope with their emotional needs and we can model those positive opportunities for them," Coleman said.
Carencro High School Principal Vanessa Knott said they're targeting two areas of need with their fundraising efforts: adding covers to walkways leading to the school's butler buildings and converting unused locker space in two of the school's academic buildings into multipurpose meeting spaces for students.
The high school has 1,500 lockers on campus but only 1,100 students, and only about half those students use a locker regularly, Knott said.
The goal is to remove unused lockers on the first floors of buildings seven and two and convert them into enclosed meeting rooms students can use for club meetings, small group learning and other gatherings. The rooms would include things such as flexible seating and presentation boards.
Aside from the school's outdated library, there aren't many viable meeting areas on campus, she said. In addition to being a physical improvement, having a nice, new space at Carencro High would show the students that the community is behind them, the principal said. "I think it'll just make them appreciate the campus more and know that people are looking at our school, thinking about us and are willing to upgrade things in order to just make the campus a better place to be," Knott said.
https://www.theadvocate.com/acadiana/news/education/article_5a351142-cbe0-11ec-b0e6-ff3f6b0eff7e.html